Video Tutorial: Python Spacewar Game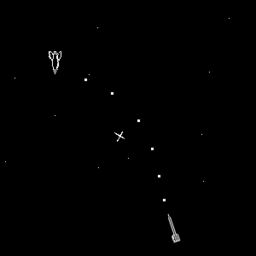 Spacewar! was one of the earliest videogames, originally created on a PDP-1 in 1962! The original version did not have gravity or hyperspace options, but later versions did. This tutorial walks you through the steps for creating a somewhat similar game using nothing more than the built-in turtle module. Note: this was coded in Python 2.7 on a Mac - other platforms, such as Linux, run much faster so you would need to add a delay to the main game loop.
The Program
We will be making a somewhat similar program - but as this tutorial is for relative beginners, we will simplify things a bit.
In this program you are tasked with destroying the red circles (your enemies) while avoiding shooting the blue squares (your allies).
Here is what the game will look like: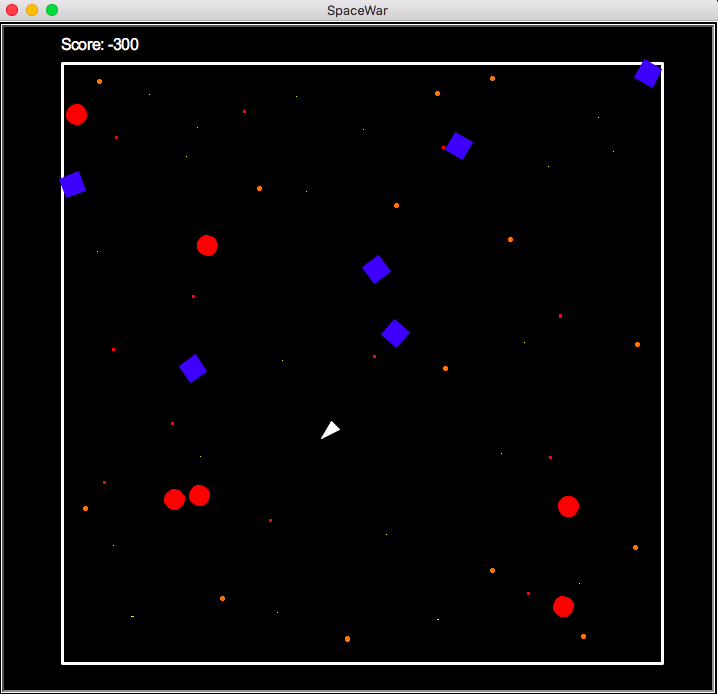 The Tutorial
The tutorial is in 10 stages as follows:
STAGE I: VIDEO / CODE - Getting Started
STAGE II: VIDEO / CODE - Create the Player Class / Move the Player
STAGE III: VIDEO / CODE - Game Objects, Borders, and Boundary Checking
STAGE IV: VIDEO / CODE - Create Enemies / Collision Checking
STAGE V: VIDEO / CODE - Creating a Missile
STAGE VI: VIDEO / CODE - Create an Ally
STAGE VII: VIDEO / CODE - Game Status / Scoring / Sound
STAGE VIII: VIDEO / CODE - Multiple Enemies / Multiple Allies
STAGE IX: VIDEO / CODE - Background Image/Window Title/Player & Missile Shape
STAGE X: VIDEO / CODE - A Simple Particle System for Explosions
BONUS
Advanced Version (SpaceWar-Demo.py)
The SpaceWar Demo version has more realistic spaceship physics, a splash screen and other graphics, and enemy and ally bases.
It looks like this: