My Free Online Typing Tutor for Moodle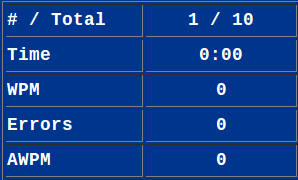 While some people I know feel that due to the tablet revolution proper typing is an outdated skill, I feel that proper keyboarding is even more critical in this day and age. Given how much time most of us spend using a keyboard, increasing your typing speed is a no-brainer way to increase your productivity.
For teachers who want to help their students improve their typing skills, there are a number of options, many of which are costly. For example, this company here in Japan charges almost 20USD per student per year for an online typing program that can integrate with Moodle. In this era of tight budgets and declining student enrollments, the cost can be prohibitive to many schools.
So, without further ado, I present my Online Typing Tutor Version 1 for Moodle. The interface looks like this:

This is a traditional typing course; you start with the home keys, use proper fingering, and practice until you get it right. Each exercise must be completed with 10 AWPM (Adjusted Words Per Minute) or more, or the score cannot be submitted.
Students type in the text box in the center of the screen. The yellow letter shows what they should be typing. At the end of the line they type return and type the next line until they complete all of the lines. If students finish with a score of 10 AWPM (Adjusted Words Per Minute) or higher, they can send their score, which will be recorded in the Moodle gradebook.

Please watch this short one minute video to see the Typing Tutor in action. Please note that when a student makes a mistake, they need to use the delete key to go back to where what they typed matches what is displayed (you'll see this at about the 0:07 mark).
You can download the course here in Moodle 2 (.MBZ) format and upload it into your Moodle site. The course does not require any special plugins or configuration. This course and everything in it are provided with a Creative Commons Attribution-NonCommercial-ShareAlike license.
Please feel free comment below (comments will appear after being moderated) if you find this useful or have any comments or suggestions for improvement, or look me up on Twitter (@TokyoEdTech).
Enjoy!